There are so many UX blogs out there that give a ton of information and aspects as to what goes into the world of UX and UI design. But there always comes a question as to which ones to read that provide the most credible and up to date content on the Internet.
Today, I'm delighted to share with you some of the best UX blogs out there which I personally follow and can assure you that they'll be fruitful for you as well.
So, further ado, here's the list of top 30 UX blogs for you:
30 Best UX Blogs
#1 UX Blog
The UX Blog was started as a resource for User Experience Design, User Research, and the UX strategy. They create each article, podcast episode, and resource relevant to the modern UX professional. You can also listen to their podcast on iTunes.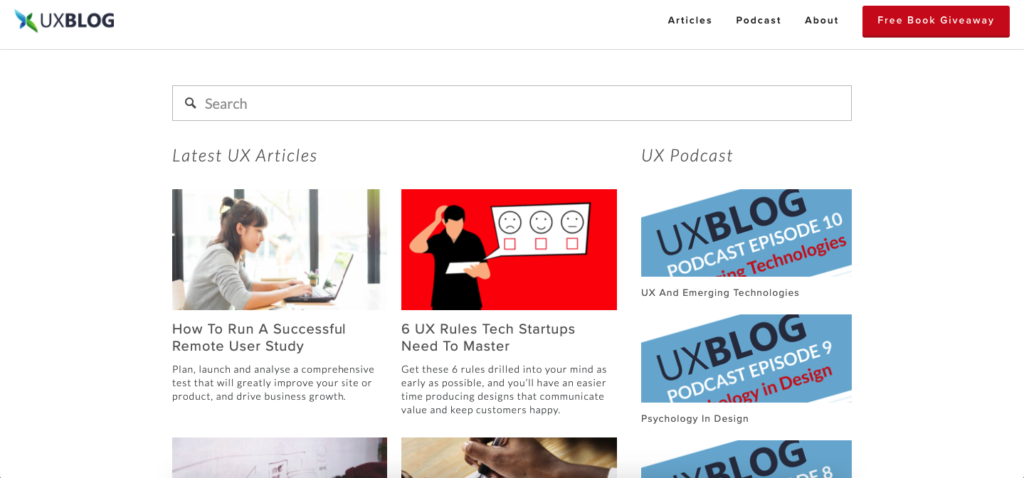 #2 Career Foundry
CareerFoundry offers programs for you to become a UI/UX designer, Data Analyst, Web Developer, "from scratch" as they like to say. The blog has various articles on UI/UX Design, Career Change, Data Analytics, Web Development, and more.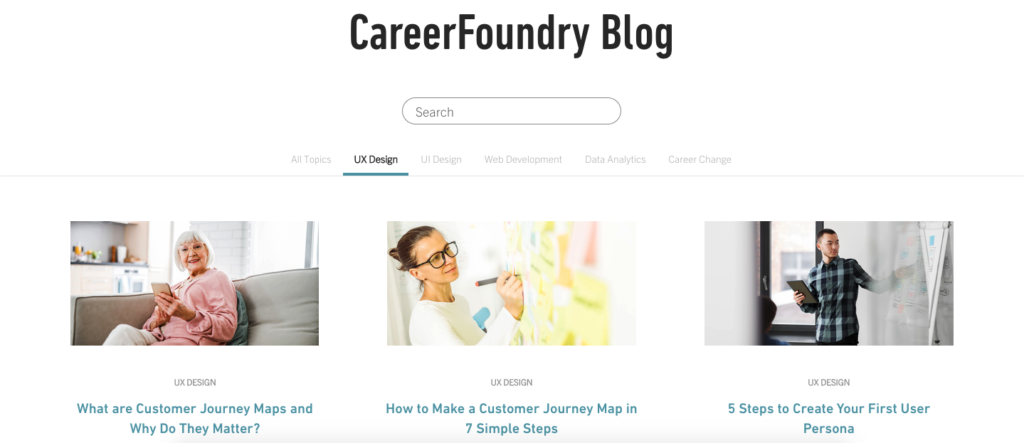 #3 UX Planet
UX Planet defines itself as "a one-stop resource for everything related to the user experience". The best thing about this blog is that it focuses on UX for beginners and also has a career section giving every information you need to know to make a career in UX space.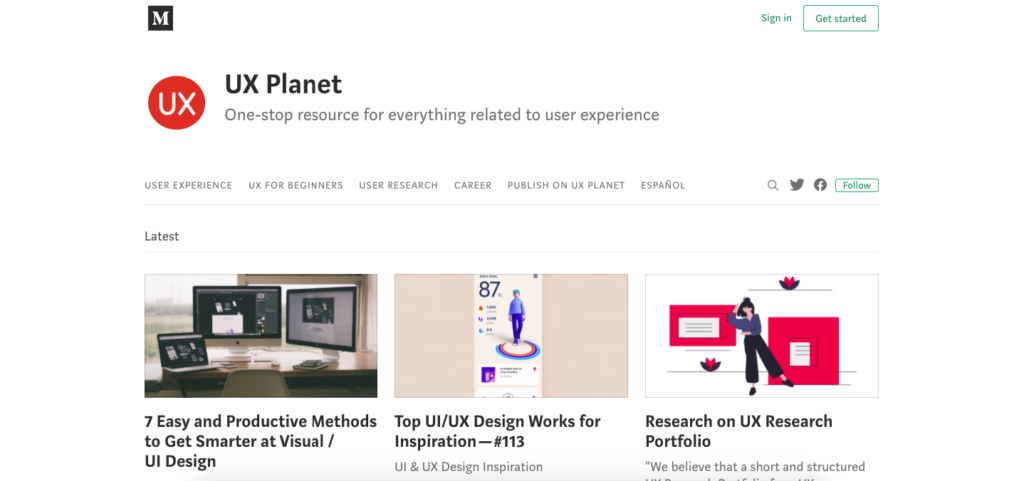 #4 Nielsen Norman Group
The creator of this blog is the man who coined the term "User Experience". Donald Norman coined the work and co-founded Nielsen Norman Group with Jakob Nielsen. It had to make it to our list. This is a UX research and consulting firm. Their articles focus on Web Usability, Psychology and UX, Ecommerce, Design process, and much more. They also hold UX conferences all over the world.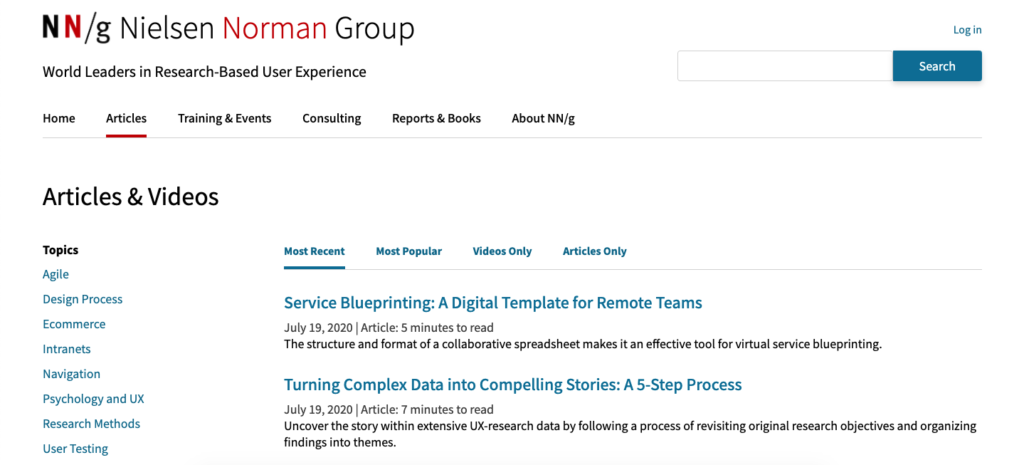 #5 Adobe XD Ideas Blog
XD Ideas blog is a forum for unique insights and authentic points of view on the practice, business, and impact of design. They deliver high-quality content and innovative resources to empower the design community. Their content includes the information architecture, prototyping, UI design, user research, user testing, and more.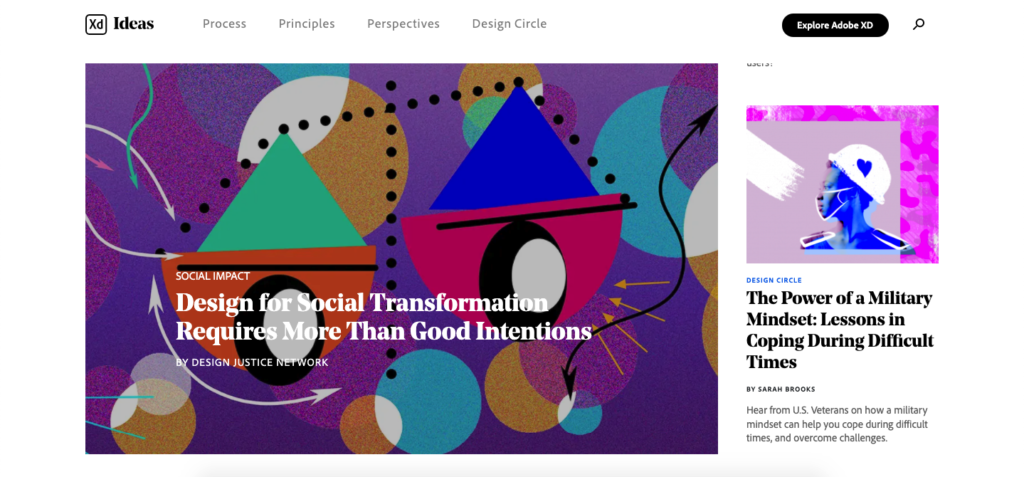 #6 UX Collective
UX Collective provides wholesome content on user experience. It has curated stories on UX, Visual, and Product Design. Subscribe to UX Collective Newsletter to get their recommendation on insightful UI/UX articles.
#7 Invision Blog
Invision is popular tool for online prototyping and workflow creation for websites and mobile apps. Invision Blog has quite a few interesting design and UX related articles relevant to designers. Being a tool for designers they try to product really good quality content with unique insights in the industry.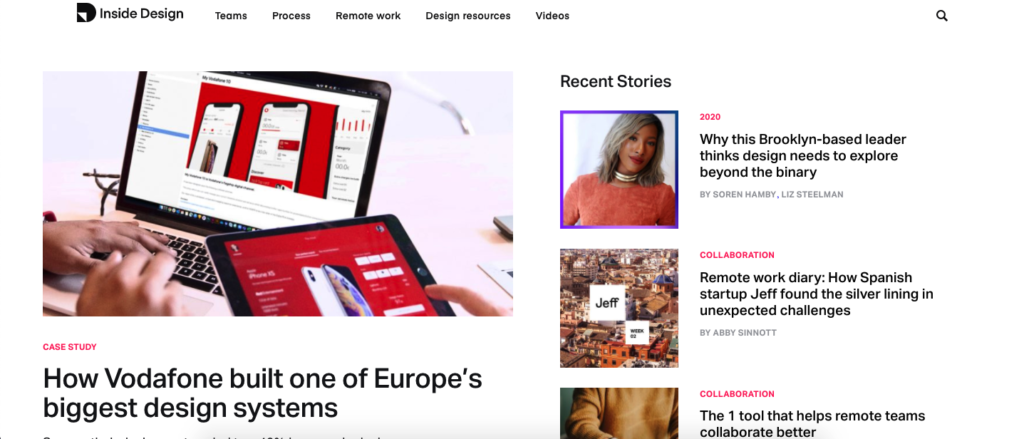 #8 Awwwards
Awwwards is a platform that recognizes the talent and efforts of the designers in the UX industry. The Awwwards blog provides a range of savvy articles on Web Design, Research, and tools, Design, and illustration written by some of the best minds in the business. You can even talk to UX designers and share knowledge and criticism with the community about their designs.

#9 FacebookDesign
Facebook wants to give people the power to build a digital community and bring the world closer together with its global outreach. The community is made up of product designers, content strategists, communication designers, and more. The Facebook Design blog showcases posts on culture, process, case studies, and a career section for upcoming designers.

#10 Usability Geek
Usability Geek is a great blog about usability and user experience. It also provides useful insights into Human-Computer Interaction(HCI), Information Architecture, and related topics. Their main aim is to evangelize the importance of website usability.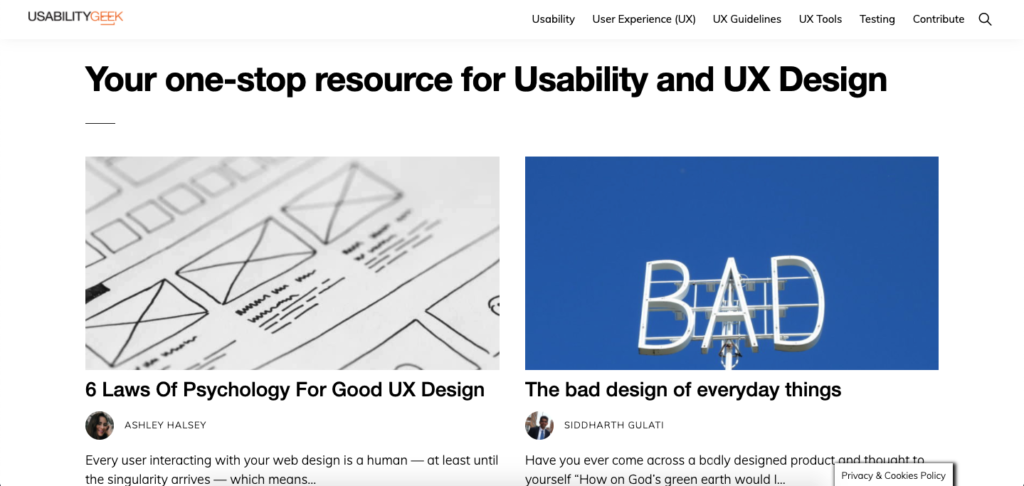 #11 UX Booth
UX Booth blogs have very high-quality content across the spectrum of UX. They even write about topics such as voice UX design. Their content provides practical solutions for UX designers. You will come across content relating to Analytics, Business Strategy, Content Strategy, Virtual Design, Information Architecture, and more on their blog. Must visit.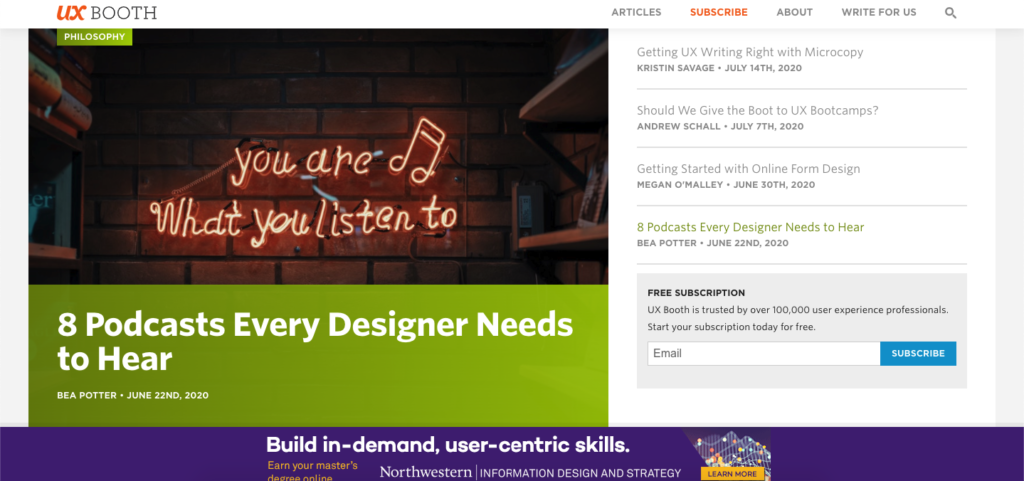 #12 UXMastery
UX Mastery is a very under-rated website. Although it provides a plethora of info-knowledge on UX. It offers a UX Mastery Podcast, along with articles on Culture, Career Advice, Design, and research. It has an interesting feature called "UX Sketch videos" which you must see. UX Mastery overall provides really good quality and insightful content.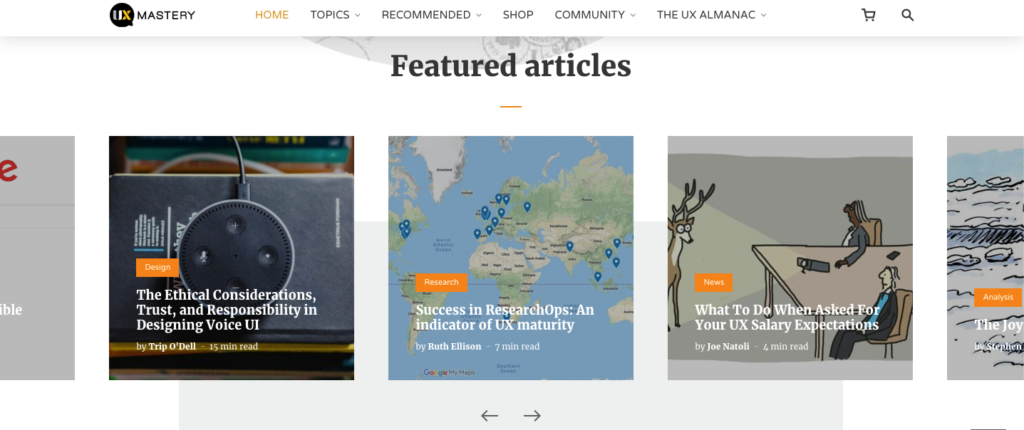 #13 UXPin
The blog at UX Pin mainly write about usability and design systems. The blog has decent content but what's unique is, the e-books they provide for free on topics such as web design trends, UX industry reports, prototyping, and many more.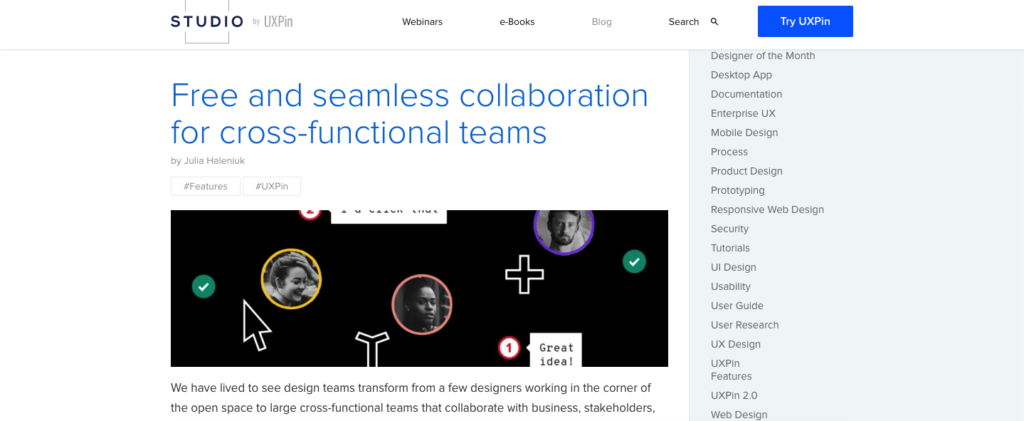 #14 52WeeksOfUX
52 Weeks of UX is a fairly unique blog. The idea was to publish one article each week starting January 2010. It's fairly old but the content and ideas shared are still relevant today. Personally, I found the blog quite informative, so do check it out.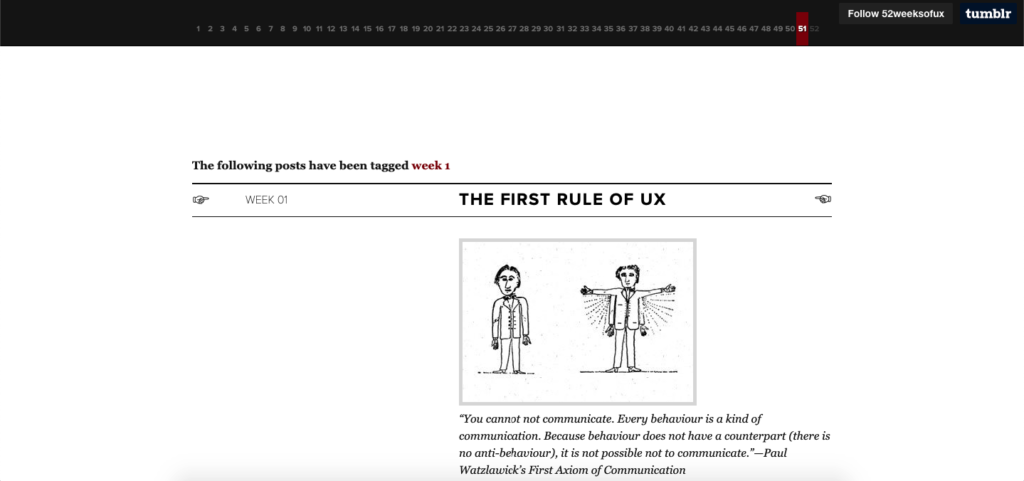 #15 Uber Design
The Uber Design blog comes from the design team at Uber and offers resourceful articles from their own experiences on building their platform and brand.
We're designing experiences that don't exist yet. Because of that, we're constantly innovating and improving what we're making. It's an amazing challenge, and it's also incredibly rewarding

Amritha Prasad, Product designer at Uber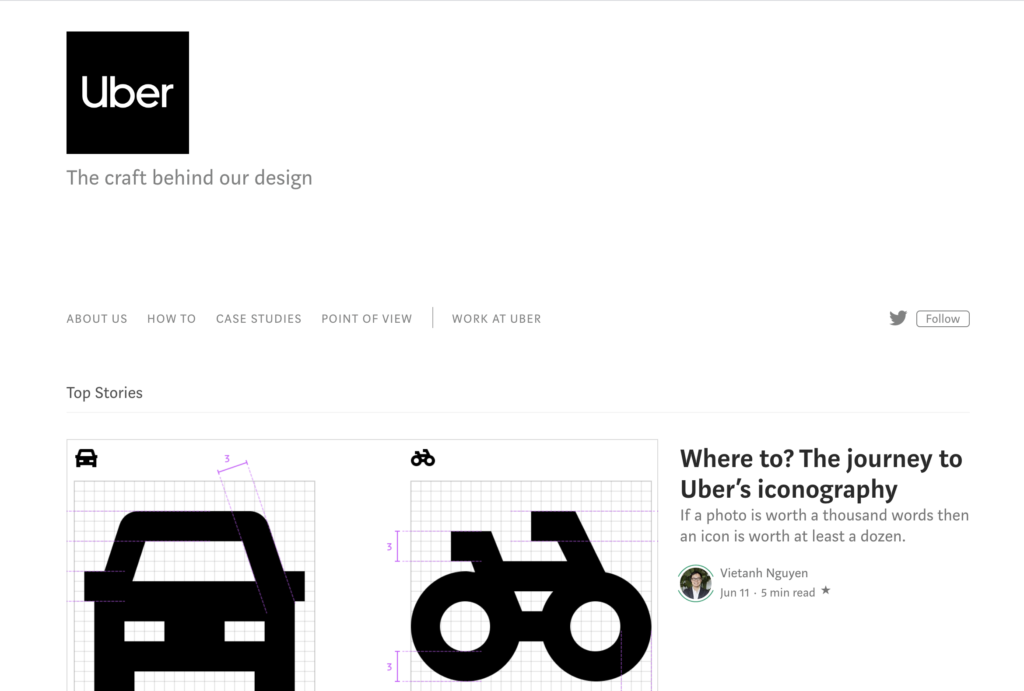 #16 Airbnb Design
Airbnb Design is a blog that features articles about design. They also publish case studies, opinion pieces, and more. Airbnb Design even do interviews with designers and artists and publish interview transcripts. Their article provides good insights into the world of design.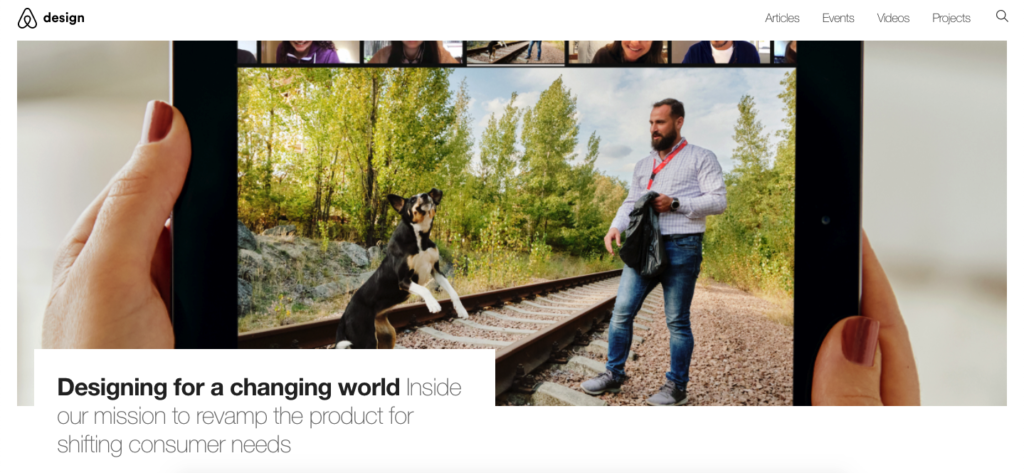 #17 UXWritingHub
This Blog is all about writing for UX. It is insightful for beginners and professionals alike. UX Writing Hub also provides a free course on UX writing, you can also save yourself a spot at the UX writing academy. If a newbie is reading this, go get yourself that free course.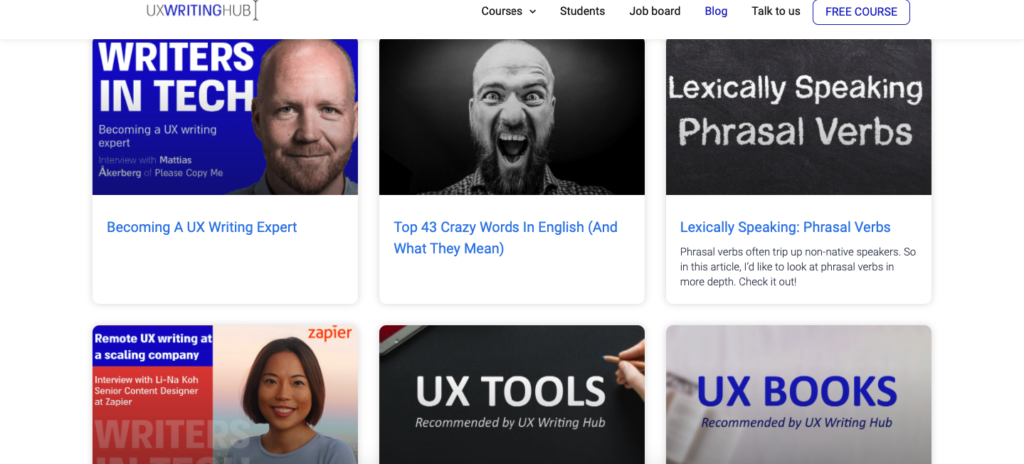 #18 UXMatters
UX Matters is an unusually designed blog as compared to its counterparts. The blog's Top Articles section offers the best quality content dating years back, but still relevant. The primary focus of the blog is in business, community, design, code, research, strategy, reviews, experiences, and process.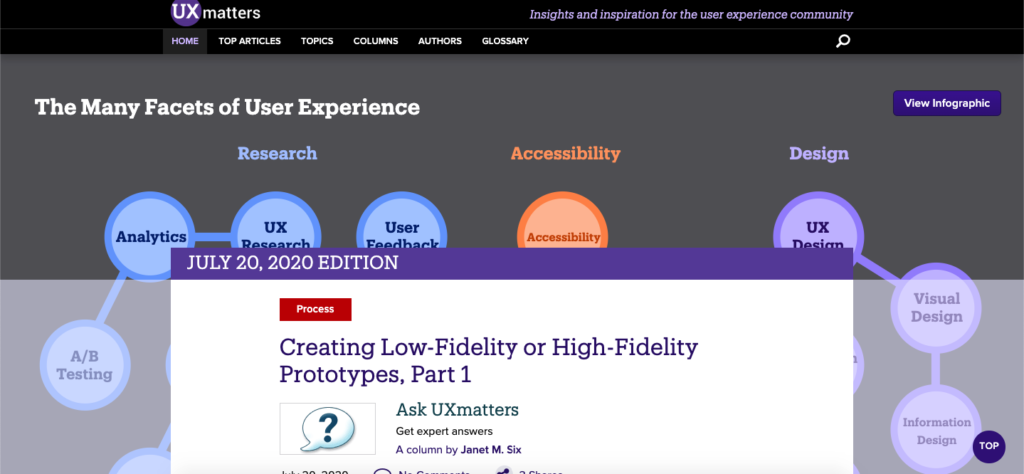 #19 Muzli
The Muzli blog shares the latest links about design and interactive, from around the world. It says it's "a designer's must". On this blog, you will find a plethora of articles on everything there is to know about design, and the designing community globally. If the design is what you care for, dig right in!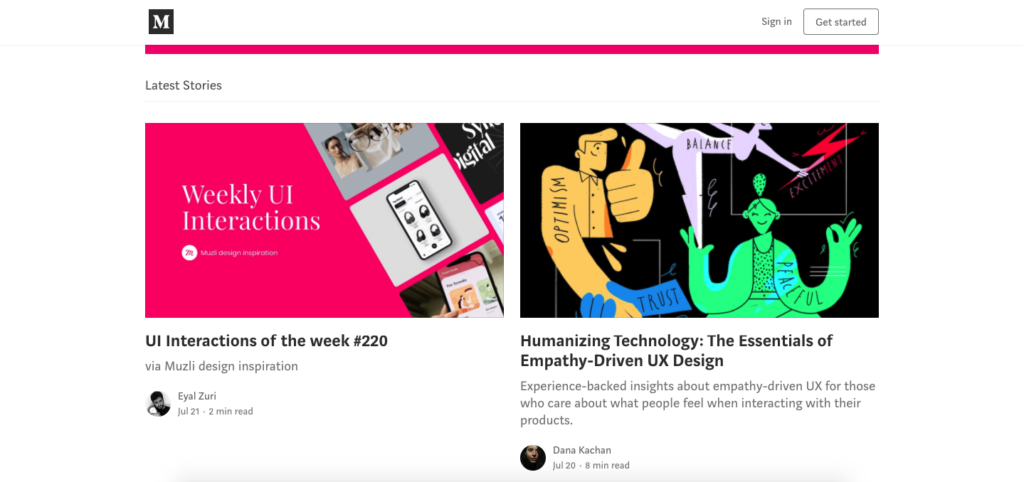 #20 UXMag
UX Mag is a magazine dedicated to the world of UX. UX Mag has an abundant variety of articles written by professionals from around the world. It cares for topics such as accessibility, artificial intelligence, conversational design, data visualization, empathy, and storytelling.

#21 1stWebDesigner's UX Category
The content on this blog is created by web design professionals, for web design professionals. 1stWebDesigner's UX category has topics ranging from web design and development best practices, web accessibility standards, the future web design to marketing web services, and anything about WordPress.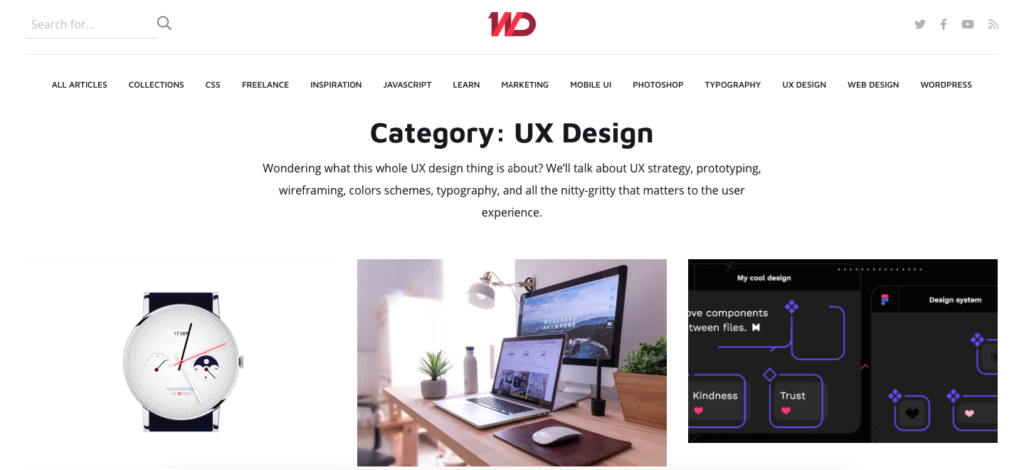 #22 Digital Telepathy
Telepathy is a customer experience and UX design agency. Their focus on customer experience shows on their website, it's very sleek. Apart from the sleekness of their site, they offer a really nice reading list of topics such as product design, marketing design, startup design, enterprise design, evidently everything design.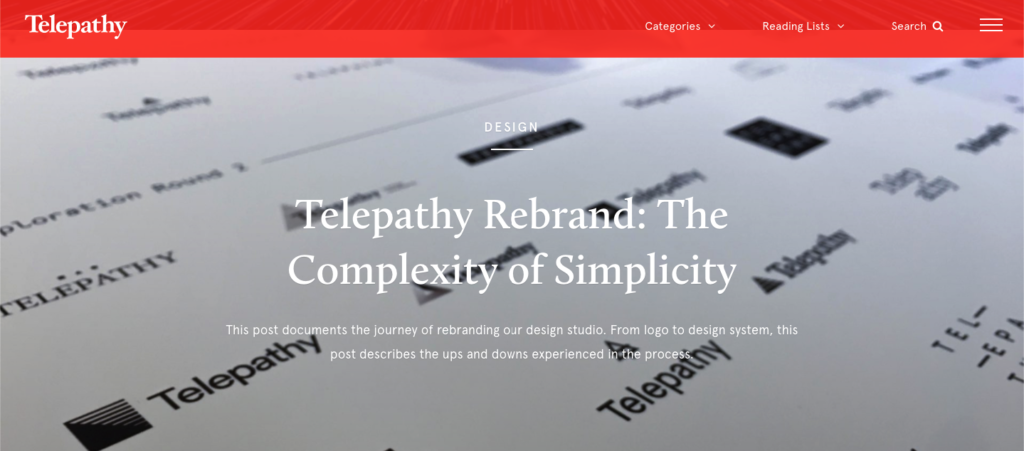 #23 Smashing Magazine's UX Category
Smashing Magazine has been around for more than a decade now and their content is simply amazing. They post blogs regularly and have a knack for UX for web design. They also write stuff about Design Patterns, Accessibility, UI, and a lot more to even mention here. This blog is one of the best in the game and is highly recommended.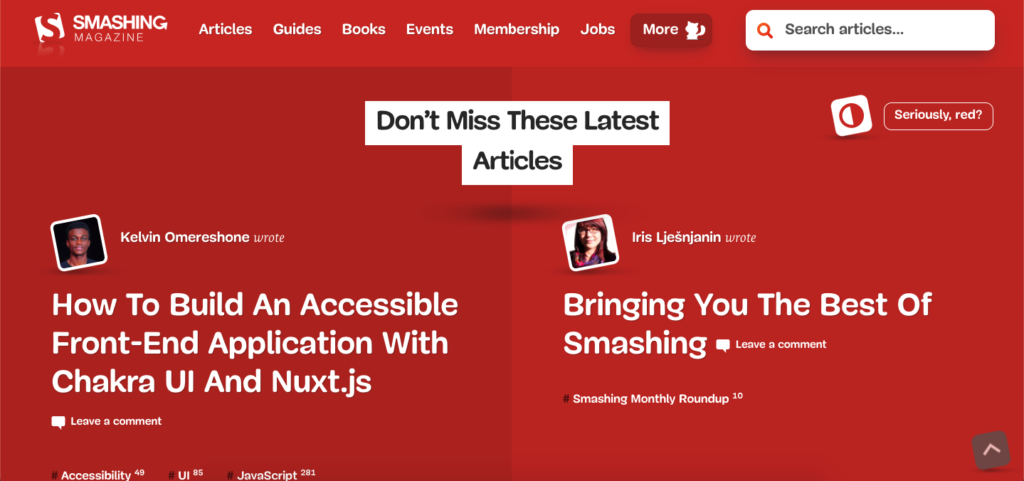 #24 Creative Bloq
Creative Bloq is all about art and design inspiration. It offers topics such as graphic design, web design. It also delivers inspiration for graphic designers, illustrators, and UX designers. They also have a magazine named "ImagineFX" that talks about general design.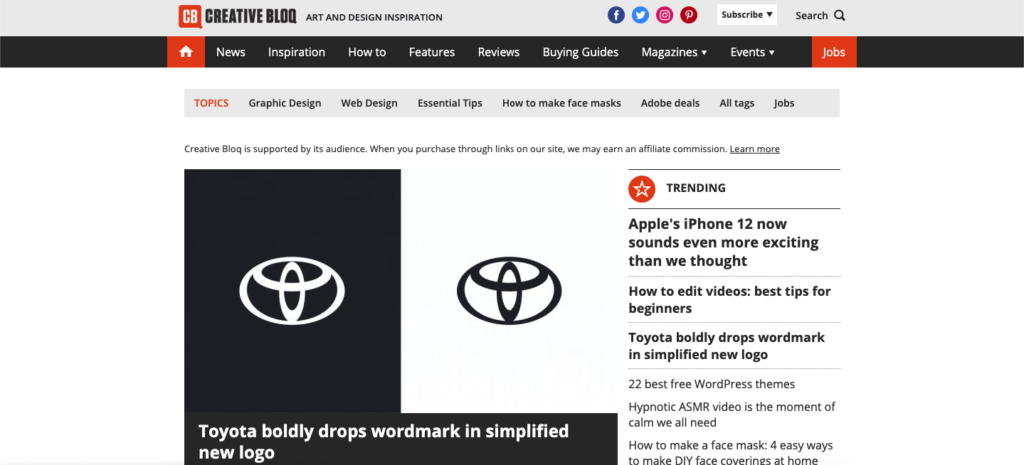 #25 UX Movement
UX Movement is a blog that mostly writes on how good and bad a design practice is, and how it affects user behavior. They post once in a month which is kind of off-putting but every article they post is filled with utmost research, clarity of reasoning, and experience.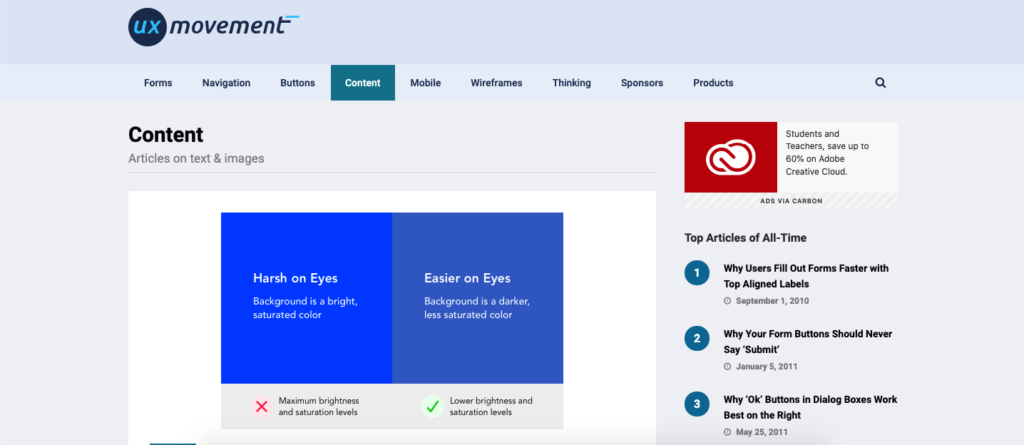 #26 UX Studio Team's Blog
UX Studio Team solely focuses on user experience work. You will find the best content on user experience on their blog, and they also provide case studies as to how designers handle UX work – they are some really interesting read. They have some great articles on User Psychology, Brand Strategy, Usability Testing, and more.

#27 UXMyths
UX Myths writes about the most common user experience misconceptions and provides clarity. All their content comes from a detailed research finding done by design and usability experts. It has to date debunked 34 myths surrounding UX.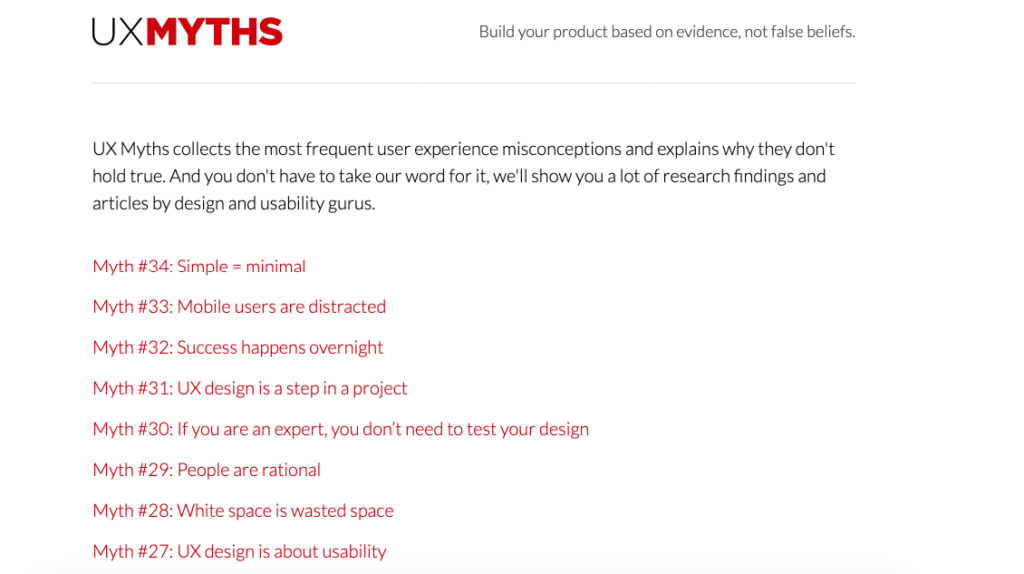 #28 A List Apart
Truly doing justice to the name, A List Apart is a blog that writes about an array of subjects for UX designers. They publish enormous and in-depth articles on subjects such as Application Development, HTML, Content Strategy, Brand Identity, Interactive Design, and a lot more to mention here. Their blogs are easy to read and very insightful.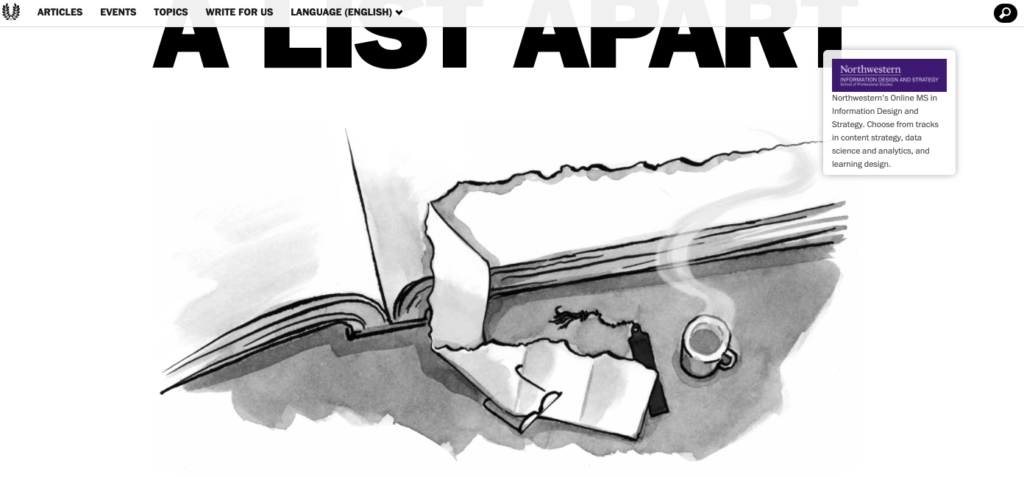 #29 Usabilla
Usabilla is a user testing tool for UX designers. On their blog they post about business-oriented UX, CX insights, Innovation in the industry, and more. They also provide e-books, webinars, and research.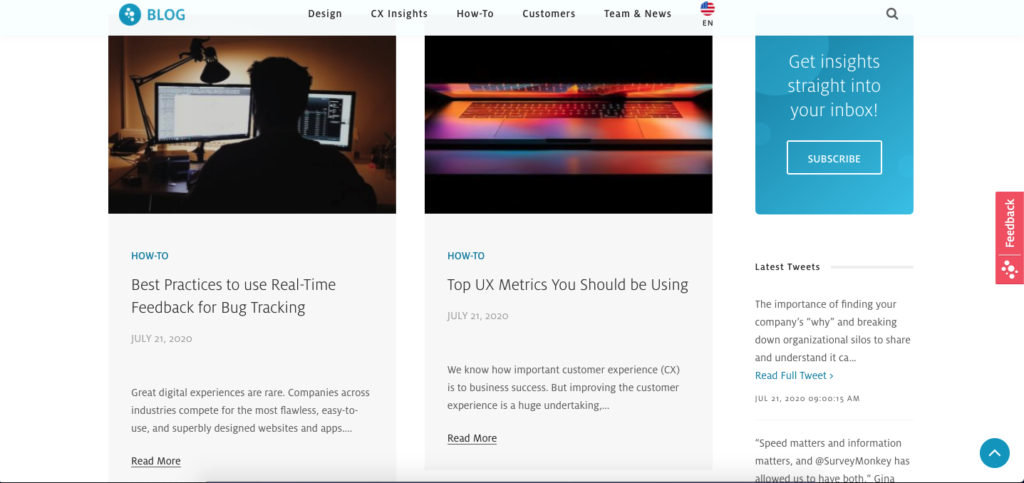 #30 Interaction Design
Interaction Design claims it has the world's largest free online resource on UX design. Topics include human-computer interaction, visual representation, usability evaluation, and much more. It also offers a range of online courses such as the psychology of e-commerce, interaction design for usability, information visualization to name a few.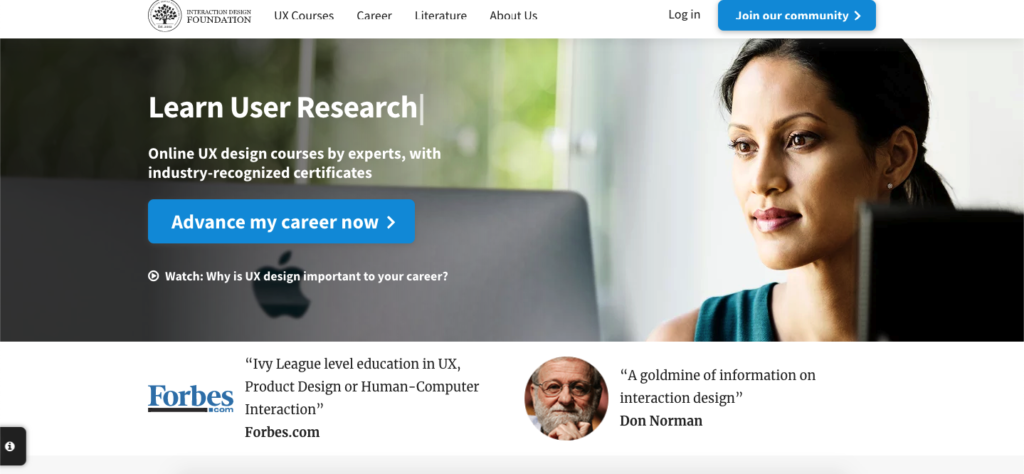 There you go!
Above listed UX blogs were handpicked for you to get the best information, knowledge and latest trends in the world of UX. The purpose of listing so many of them was to give you a comprehensive list that gives you taste of all kinds of UX people and their insights.
Go ahead and bookmark this page so that you have it handy the next time you need to look up a UX blog.
Did I miss any blog? Do let me know by leaving a comment below.