The Adobe software list is a long one. Made basically for all things creative, its Creative Cloud suite has tools for graphic and web designers, illustrators, photographers, or even marketing professionals and those working in TV and movies.
There are over 50 apps available in the suite, but there are main apps that truly stand out. From Adobe Photoshop to Illustrator and more! But, let's look into the growing Adobe software that has been competing effectively with its competitors: Adobe XD.
This article introduces Adobe XD, the tool mainly used for web and mobile prototyping, and its 10 Best Tutorials for Beginners and Advanced Users.
What is Adobe XD?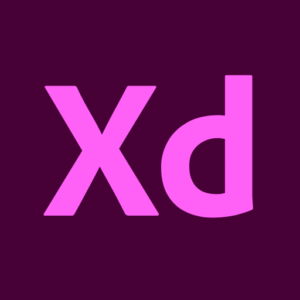 Previously known as "Project Comet," Adobe XD or Adobe Experience Design was launched in February 2016. It was then only a preview version that only catered to Mac, and with very limited features presented. But, as more updates were introduced and more features added with feedback from the growing user base, Adobe XD has grown quite a competition to fellow wireframing and prototyping apps like Sketch and Figma.
In fact, earlier Sketch conversion was one of our most popular services but Adobe XD to WordPress conversion projects have surpassed that in recent years and majority of design conversion projects we do today are for Adobe XD designs.
It works for web designers as an excellent vector-based digital design tool using which you can create prototypes, mockups, or full designs while collaborating with other team members.
There are many benefits that Adobe XD offers to the web design community. If you're an aspiring designer or you simply want to explore this tool, here are the 10 best tutorials for Adobe XD for beginners and advanced users.
Let's begin.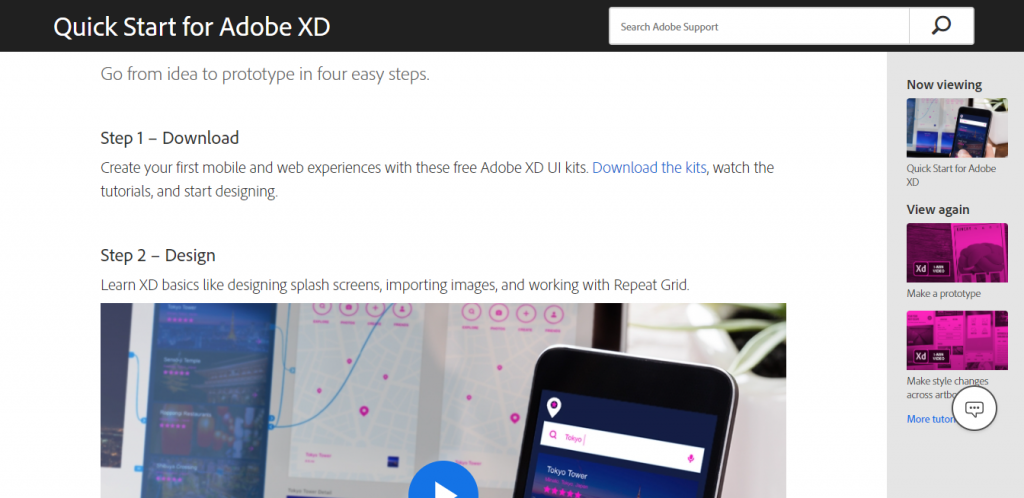 What's a better way to begin than to learn from the creators themselves?
This tutorial by Adobe shows users how to make a prototype in Adobe XD. It consists of three parts that give the users a general idea of the tool's features. It has an overall six easy steps with added videos for steps 2 to 6. It starts with creating a design, turning it into a prototype, and sharing it with other developers for feedback and testing.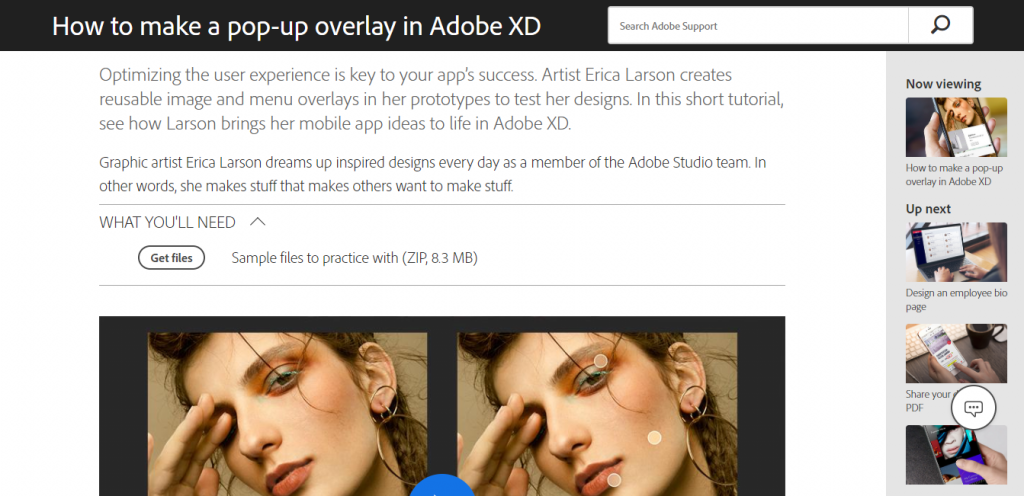 Another tutorial straight from Adobe.
The best way to learn is to experience it yourself. This tutorial is the first part of their "Create your prototype" tutorial, consisting of three parts in total. It first shows a 1-minute video of all the steps involved in making a pop-up overlay in the software. Here you'll learn how to duplicate artboards, hide some elements, include a menu, reveal the previously hidden elements, and see the overall result.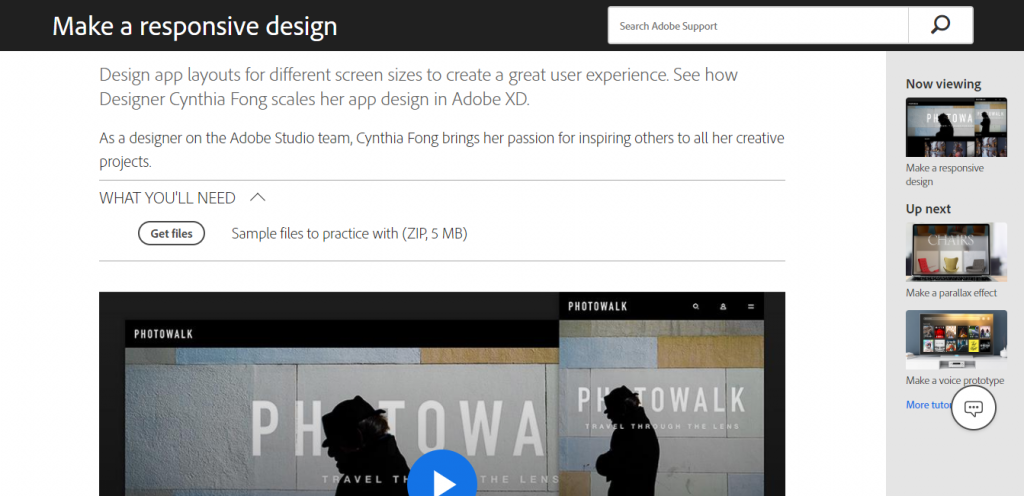 This is part of the beginner's projects offered by Adobe.
Here, Cynthia Fong shares how users can design app layouts fit for different sizes while creating a great user experience. It starts with a 1-minute video of all the steps involved. Users will learn how to enable the Responsive Resize tool and how and where to use it.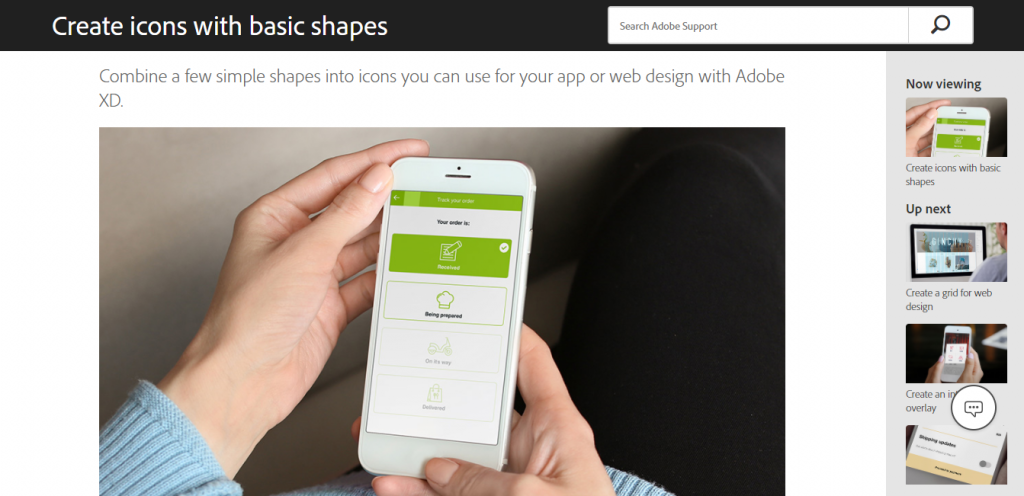 The world of apps and the web are filled with icons. That is why this tutorial shows users how they can create icons with even the most basic shapes with Adobe XD.
Like all tutorials offered by Adobe, this tutorial has an available sample file you can use. Learn how to replicate elements by using Repeat Grid and refine shapes to your liking.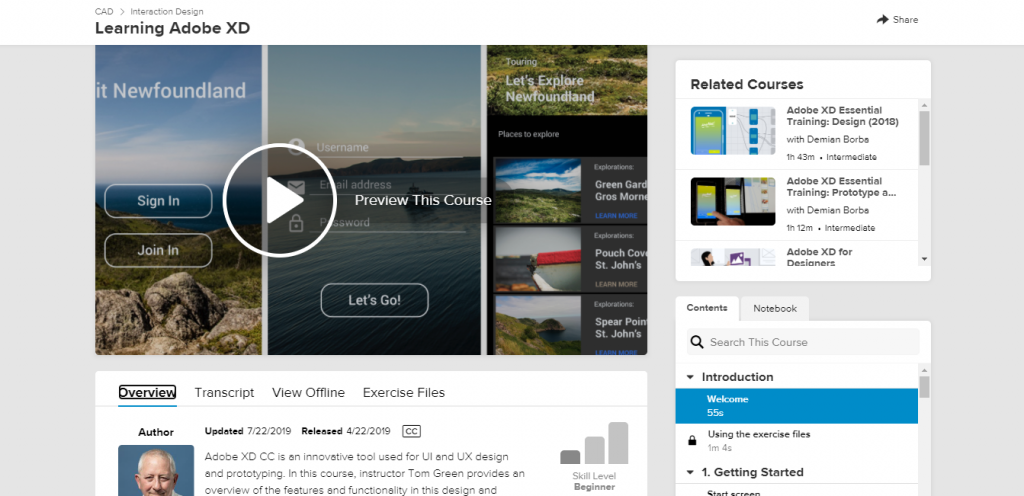 Now that you have been introduced to some of Adobe XD features, it's time to deep dive into it.
Tom Green introduces not only the basics of Adobe XD but also the more exciting features such as auto-animate, integration with Photoshop, Sketch and other developer tools. You will also learn more about artboards, interactive prototypes, and how to test them in preview panels.
This tutorial caters to those users who already have the basics covered. So, if you went through the previous tutorials mentioned above, you're ready for this class by Caleb Kingston, a User Interface teacher at www.appdesigntips.com.
With over 6,085 students and a rating of 4.5, this tutorial begins with a few basics and proceeds immediately to the more complex works such as designing and prototyping a full-fledged app. It includes the use of images, colors, and exciting animations.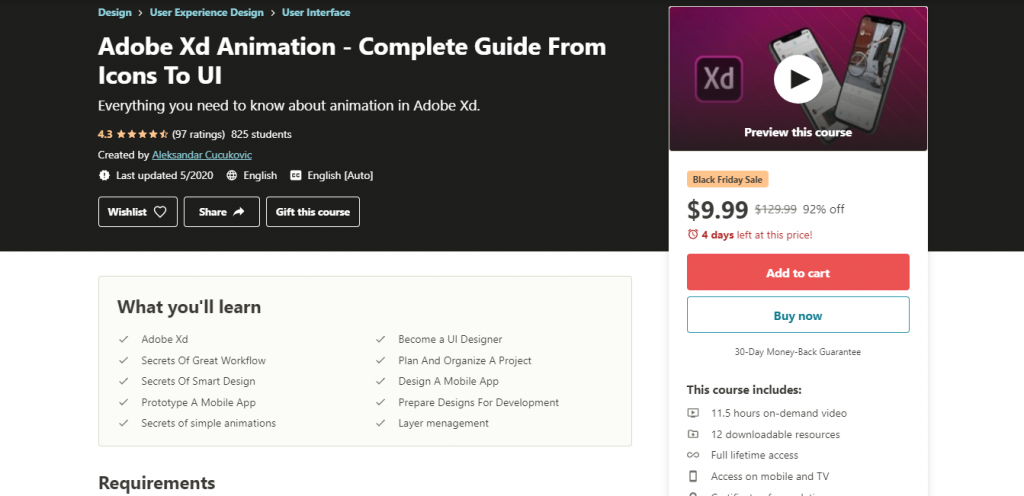 The previous tutorial introduced the animation feature of Adobe XD. In this tutorial, Aleksandar guides students on everything they need to know about Adobe XD Animation.
Students will learn how to animate icons, buttons, texts, charts, and other elements. Along the way, it will also show students how to design a mobile app with all the necessary animations.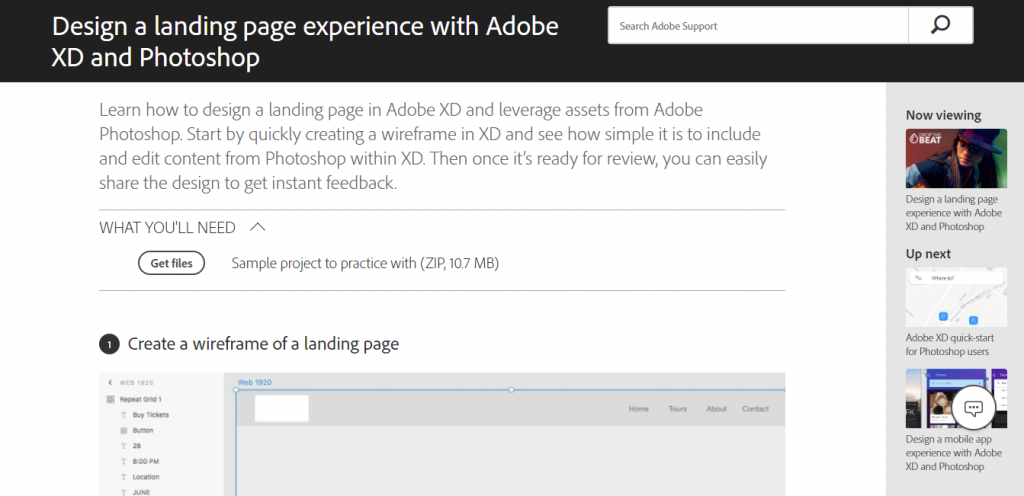 This tutorial is part of the XD Tutorial for Photoshop users by Adobe.
The highlight of this tutorial is that it shows users how to edit content from Photoshop within Adobe XD. It includes three steps: (1) Users start creating a wireframe for their landing page, (2) followed by transforming mockup wireframe into a full high-fidelity design, (3) and of course it ends by sharing the prototype to other users for feedback.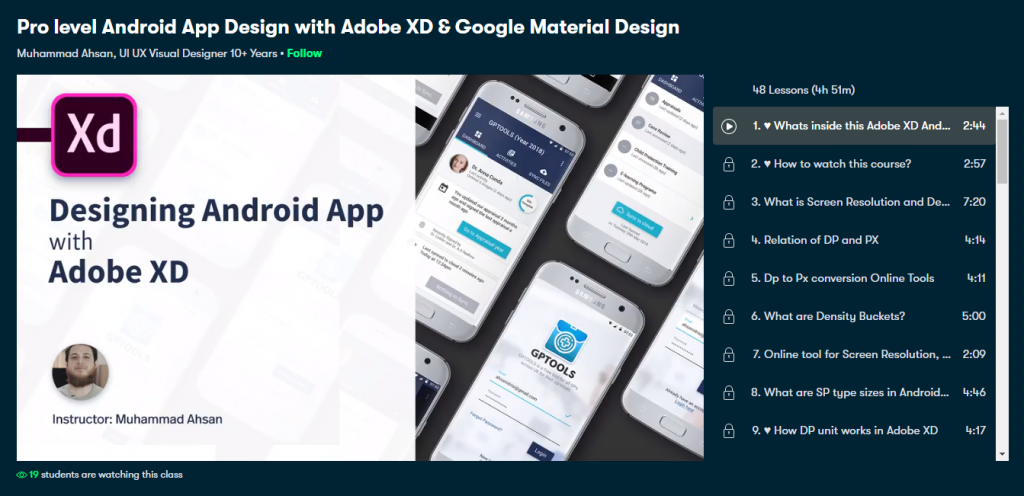 Since web design is covered in the previous tutorial, this tutorial will focus on creating an app design with Adobe XD.
Muhammad Ahsan has been a UI/UX Designer for 10+ years, and here he details how to create an android app design according to the guidelines set by Material Design and Adobe XD. It's an advanced tutorial that teaches students how to design android apps at a professional level.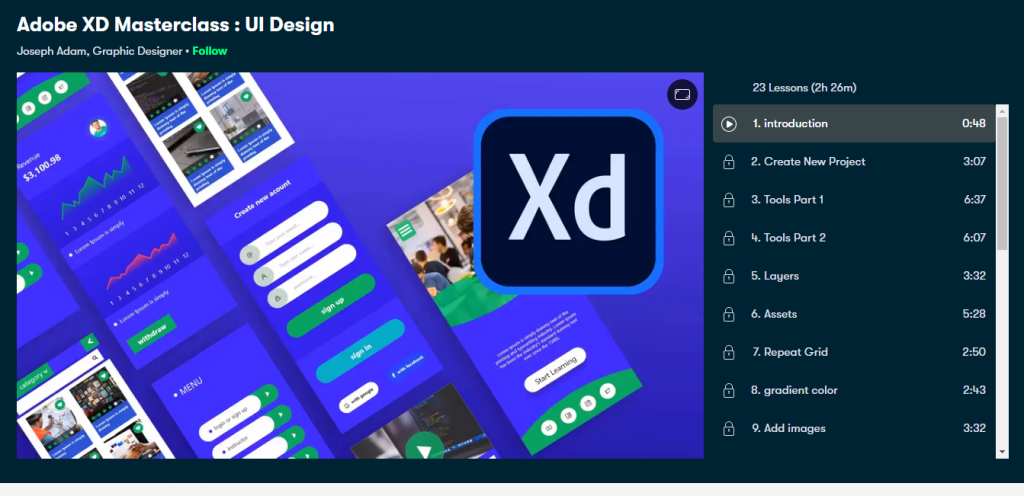 The final tutorial in this list is another professional course that teaches students how to use Adobe XD effectively that by the end of it, they can design their own website and app interfaces with complete confidence.
All in all, Adobe XD is no doubt a powerful tool, and with all the available tutorials out there, you will surely learn to find your way around it, integrate it into your design workflow, and produce stunning website designs.